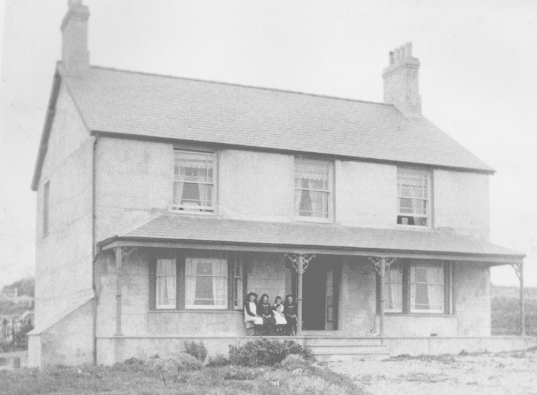 Built in 1871 as the main farm house for the working farm Dwyros, this house was lived in by the Williams family, followed by the Evans family who were farmers, but the owner, Cobden Evans, was also a sea captain and sailed out of Liverpool with a route round Cape Horn to Chile. One of his children, Lilly, was born in Valparaiso in 1892, so he must have taken his wife with him as well at times!
The house and the garden were separated from the farm in 1928, and the new farmhouse which was built behind, was called Dwyros, and the old house was given the new name, Afallon.
In 1934 the last sea captain to own the house, Rowland Richards, died.  His widow, Ada, continued to live there until her death in 1943.  After the WW2, in 1946, their two sons, Trevor and Geoff Richards, put Afallon up for sale. My mother bought it that winter with a view to it being our summer holiday house. There was no electricity supply, just a generator in the cellar run on paraffin, and certainly there was no heating!  Indeed there was no central heating in all the years until a refurbishment in 1969, when the house had a makeover of sorts.
The house underwent extensive renovations in 2004 with the addition of the garden room, new kitchen/cloakroom extension, bathrooms above, the renovation of the cellar to make a games room, and a store room was created where the coal used to be delivered.
I spent many happy family holidays over the early years in the forties, fifties and sixties with my own parents and my siblings, then more recently with my husband and our three sons, and now with their wives and an ever-increasing number of grandchildren too. May it carry on………………….